SPORT
Pitch invader stops Crystal Palace vs Man Utd to get selfie with Casemiro
A Video clip is available for this news. Feel free to watch it here
A fan was able to stroll onto the pitch during Manchester United's clash with Crystal Palace to take a selfie with midfielder Casemiro.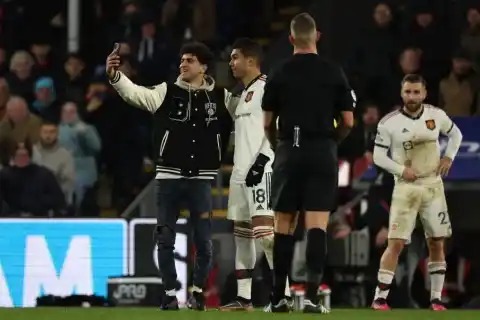 The spectator was able to travel the length of the field in the 56th minute of Wednesday's Premier League match at Selhurst Park in order to get to Casemiro, who was standing on the halfway line close to the dugouts.
Before advancing him, the Brazil international stopped to take a picture.
The fan was allowed to leave the field in the opposite direction while continuing to record on his phone because there were no stewards nearby.
Casemiro received a yellow card for a reckless lunge on Wilfried Zaha later in the game. As a result, the midfielder will miss Sunday's crucial matchup with Arsenal.
Just minutes after David de Gea made an incredible save at the opposite end, United took the lead at the conclusion of the first half through Bruno Fernandes.
The 90th minute, though, saw the visitors come back thanks to a spectacular free kick from Michael Olise.
Erik ten Hag's team loses the chance to move up to second place, ending United's streak of nine straight victories.
Goldenguy (
)