NEWS
Why Tinubu's Statement Against Buhari's Govt At The Ogun Rally Was Taken Too Far & May Affect Him
This article Click to see Video describes something that took place only a few minutes ago. Today, See Video Clip the report was distributed to the public by our publishers.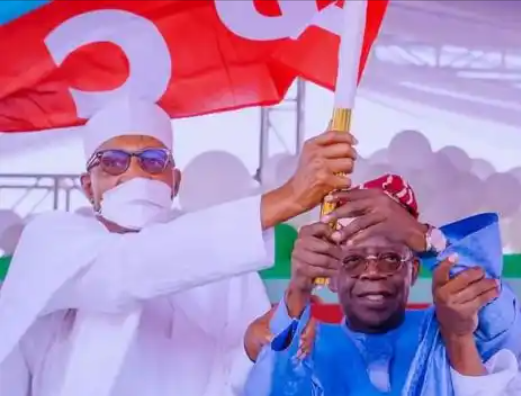 The presidential election comes up on the 25th of February and all the presidential candidates have been putting in hard work to ensure that they emerge as the winner
Counting down to the day of the election, It is no gainsaying that the All Progressive Congress APC presidential aspirant, Bola Ahmed Tinubu has done extremely well with his campaigns as he has touched all regions
Going by the campaigns he has staged, he is no doubt, a strong contender in the presidential race. However, his statement at his last rally in Ogun State, which came as a slight dig at the presidency, May affect his campaign and also halt his chances at the poll if care is not taken
Tinubu, while in Ogun State said "They changed money, kept petrol so that they can stop us, but we will use our PVC to Obtain power from them "
The first question here is who is he obtaining power from if not the incumbent government of Buhari? Moreso, president Buhari is also the head of the ministry of petroleum which is currently facing challenges of fuel scarcity
The above statement was taken too far and may likely haunt him as trying to make issues with the presidency May be costly at this point.
Moreso, President Buhari has been seen in some of his rallies trying to show support; latest in Abia. I think Asiwaju needs all hands on deck at this point, most especially every member of his party to get the desired result
He has pulled so much crowd in all his campaigns and throwing shades at party representatives at this point may result in withdrawal which may likely cost him the crown
My take, kindly share yours with us
Bodeblogs (
)