NEWS
Today's Headlines:PDP Begins Court Process To Disqualify Tinubu;Naja'atu Sacked For Incompetence
This article Click to see Video describes something that took place only a few minutes ago. Today, See Video Clip the report was distributed to the public by our publishers.
PDP Begins Court Process To Disqualify Tinubu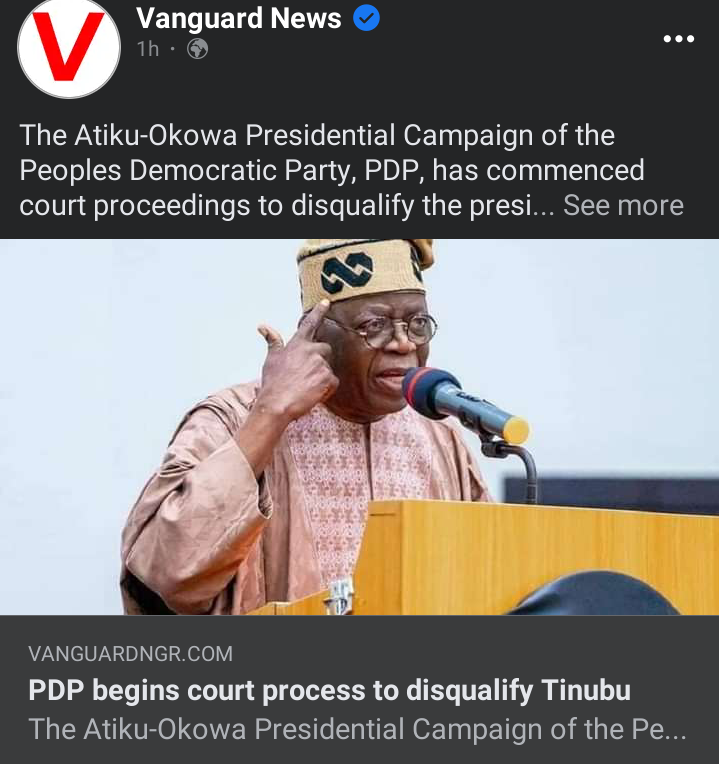 Photo Credit:Vanguard papers
The Atiku-Okowa Presidential Campaign of the Peoples Democratic Party, PDP, has commenced court proceedings to disqualify the presidential candidate of the All Progressives Congress, APC, Asiwaju Bola Tinubu, over criminal conviction and sentencing by a court of competent jurisdiction in the United States over trafficking in narcotics.
However, APC PCC immediately countered the PDP, saying the party did not only lack originality but was also a copycat.
But PDP's move is a counter to the APC which on January 20, approached the courts to disqualify Alhaji Atiku Abubakar of the PDP from the presidential poll over what it termed as #Atiku-Gate and Special Purpose Vehicle, SPV, saga.
Yesterday, the PDP insisted that the conviction of Tinubu for a criminal offence by a court of competent jurisdiction in the United States of America rendered him ineligible to contest any election.
Naja'atu Sacked For Incompetence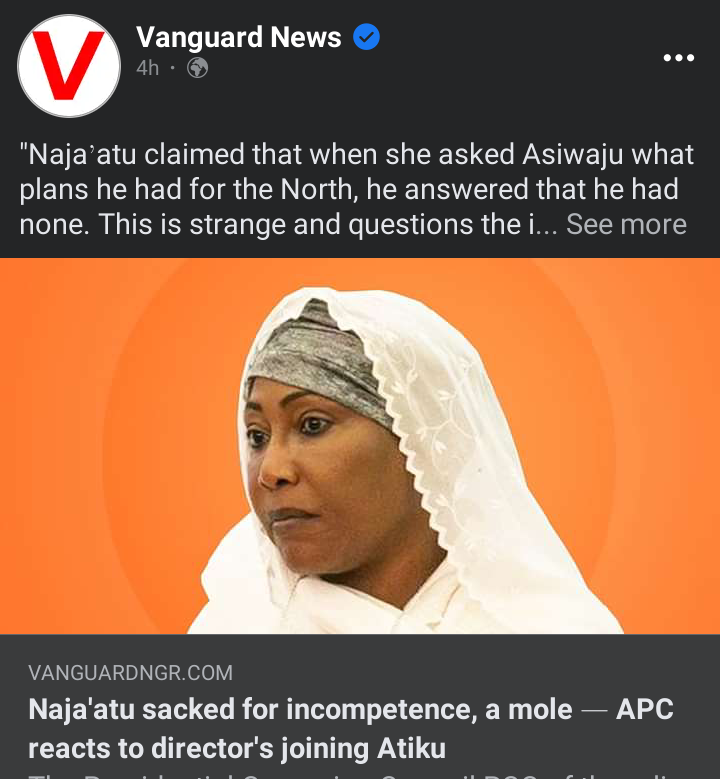 Photo Credit:Vanguard papers
The Presidential Campaign Council PCC of the ruling All Progressives Congress APC on Monday made a U-turn on its decision to not respond to the resignation of one of its directors, Hajia Naja'atu Mohammed, saying she was sacked for incompetence and being a mole in its cold.
It said it received with amusement Mohammed's hasty "resignation" from her position as Director of Civil Society Organizations "just before she was sacked for incompetence, quarrelsomeness and after being uncovered to be a mole planted in our winning campaign in order to leak sensitive information to our desperate opponents".
Hajia Mohammed resigned last Saturday, saying her conscience would not allow her to continue in the APC PCC. She had also said the party's standard bearer, Asiwaju Bola Tinubu was too sick and possibly suffering from Alzheimer's disease as he could not hold a teacup when she visited him in London some time ago.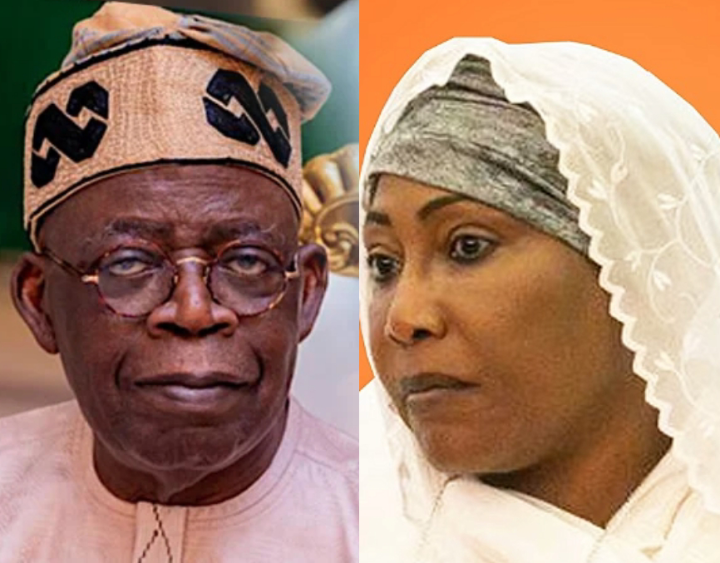 Photo Credit:Google
Obi Promises To Tackle Poverty, Unemployment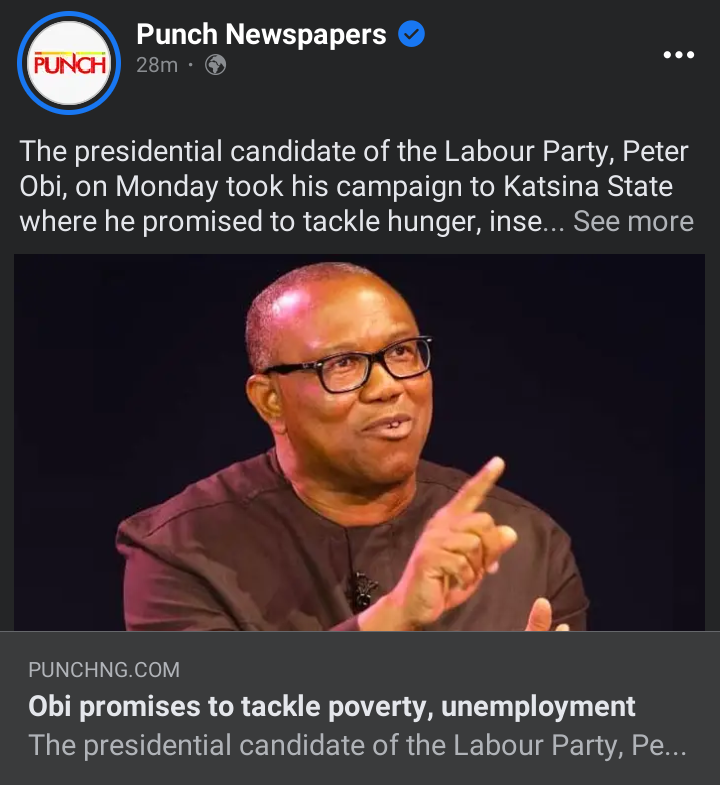 Photo Credit:Punch papers
The presidential candidate of the Labour Party, Peter Obi, on Monday took his campaign to Katsina State where he promised to tackle hunger, insecurity and unemployment among others.
He spoke while addressing party members and supporters at the Muhammed Dikko Stadium, Katsina.
Obi and his campaign team, including his running mate, Datti Baba- Ahmed, told the crowd that they were ready to serve the country with all the strength in them if elected.
He promised to fulfil all his promises to Nigerians, insisting that electorates should have faith in him and his party to further develop the country.
Buhari's Declaration In Bauchi: Tinubu Is Incoming President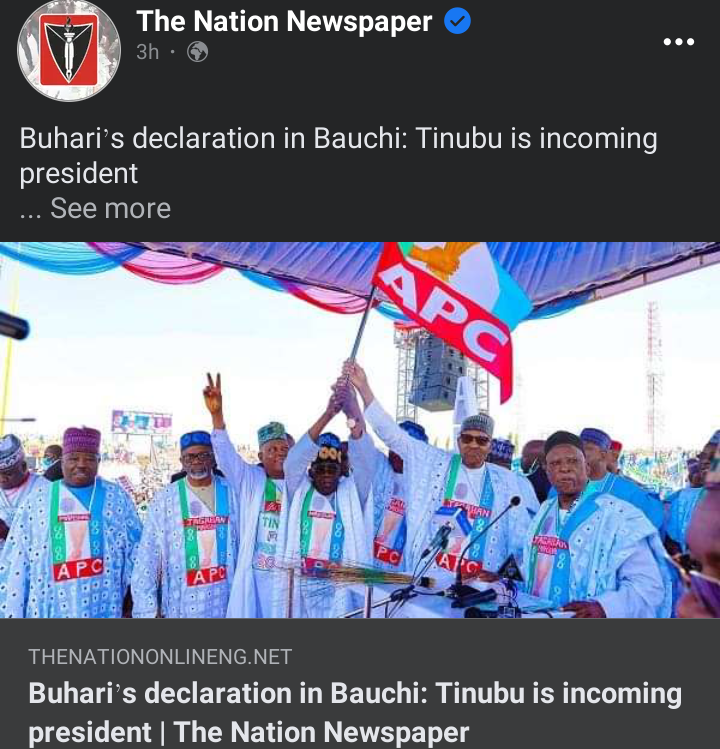 Photo Credit: The Nation
President Muhammadu Buhari has said that the All Progressives Congress (APC) presidential standard bearer, Asiwaju Bola Ahmed Tinubu, will succeed him.
Tinubu is the incoming president," he said while paying a courtesy call on the Emir of Bauchi, Alhaji Rilwan Adamu, in his palace yesterday.
A huge crowd of party faithful and supporters welcomed the APC campaign train to Bauchi, the capital of Bauchi State.
House of Representatives Speaker Femi Gbajabiamila explained why the North should vote for Tinubu, saying that voting for him will validate their loyalty to the president and the ruling party.
YAHAYA (
)