NEWS
Today's Headlines:Buhari Faces Legal Battle Over Attacks Obi, Obi Escapes, Condems Post Rally Attack
This article Click to see Video describes something that took place only a few minutes ago. Today, See Video Clip the report was distributed to the public by our publishers.
President Buhari Faces Legal Battle Over Attacks On Peter Obi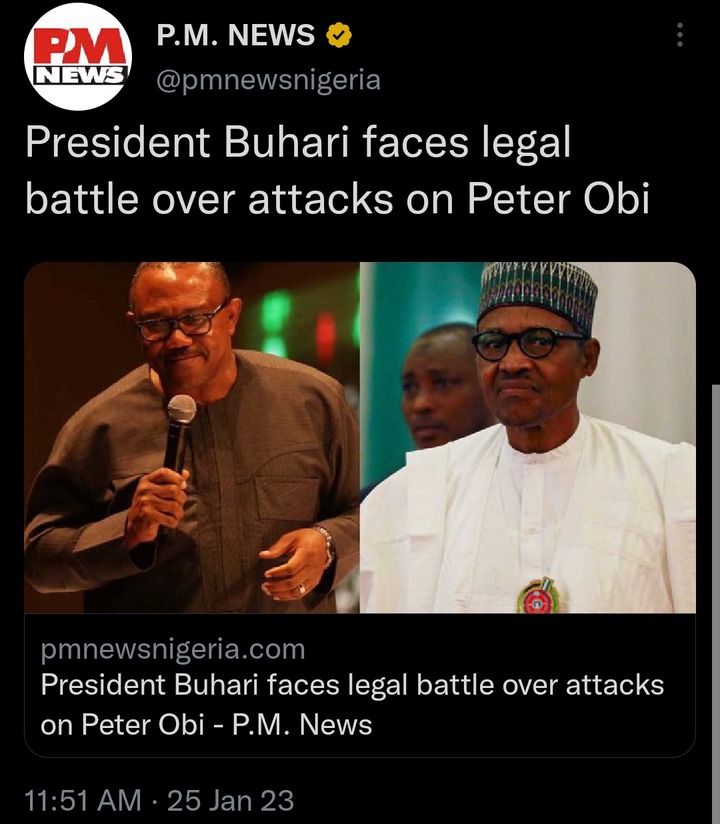 (Photo Credit: PM )
The President Muhammadu Buhari administration has been told to promptly investigate the reported attacks on the Labour Party presidential candidate, Peter Obi, or face a legal battle.
The warning was issued by the Socio-Economic Rights and Accountability Project (SERAP) on Wednesday.
"We'll take legal action if the perpetrators are not immediately arrested and prosecuted," the agency noted in a short statement sent to PM .
Obi Escapes, Condems Post Rally Attacks In Katsina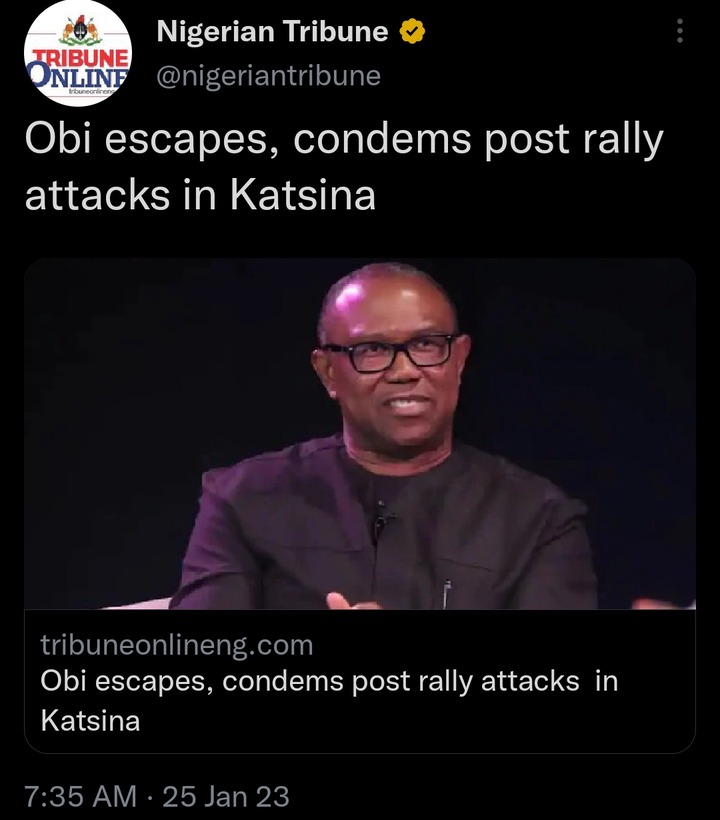 (Photo Credit: Nigerian Tribune)
Presidential candidate of the Labour Party (LP), Mr Peter Obi on Tuesday survived an attack against his convoy in Katsina after the successful rally it held to canvass for votes in the February 25 poll.
The party in a statement issued by the Obi-Datti Presidential Campaign Council said the the presidential candidate came under massive attack as thugs used pelted his convoy with stones.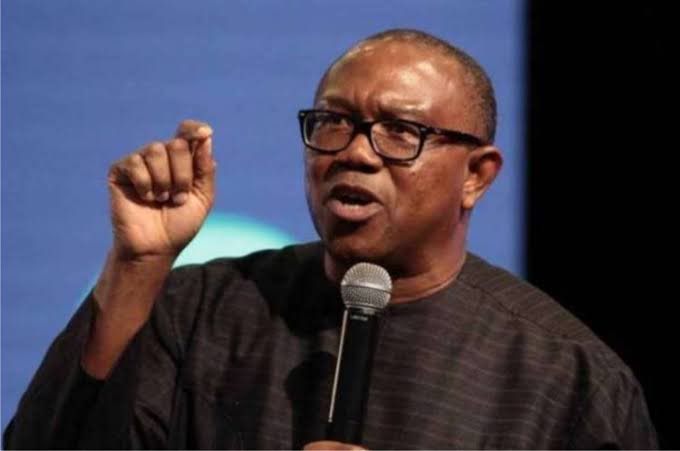 (Photo Credit: Google)
Buhari Chairs Committee To End Fuel Scarcity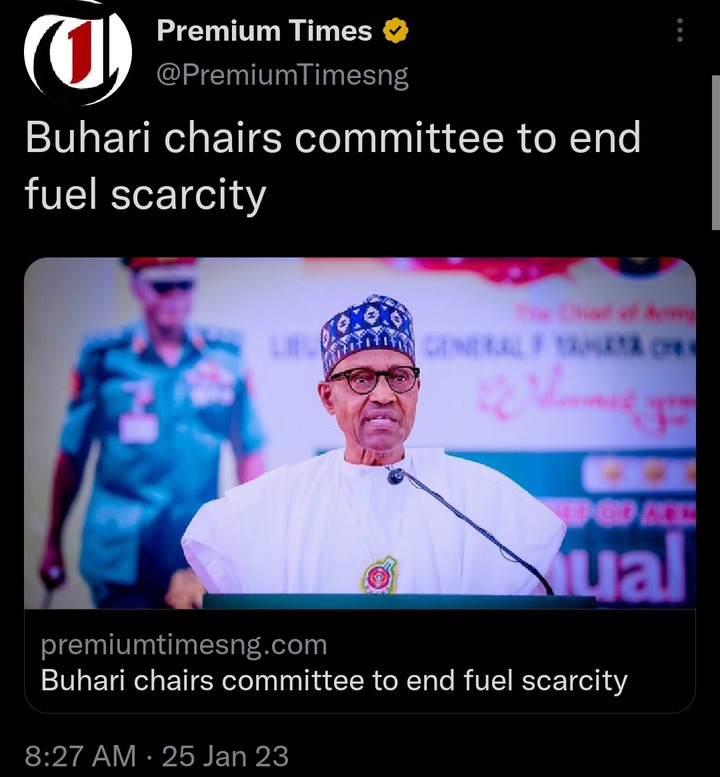 (Photo Credit: Premium Times)
President Muhammadu Buhari on Tuesday approved the constitution of a 14-member steering committee to address the supply and distribution of petroleum products across the country.
The steering committee will be chaired by the President, with the Minister of State for Petroleum Resources, Timipre Sylva, acting as the alternate chairman.
Mr Sylva, in a statement issued by his senior adviser on media and communication, Horatius Egua, on Tuesday said the committee would, among other things, ensure transparent and efficient supply and distribution of petroleum products across the country.
Buhari Has Performed Better Than Obasanjo – Says BMO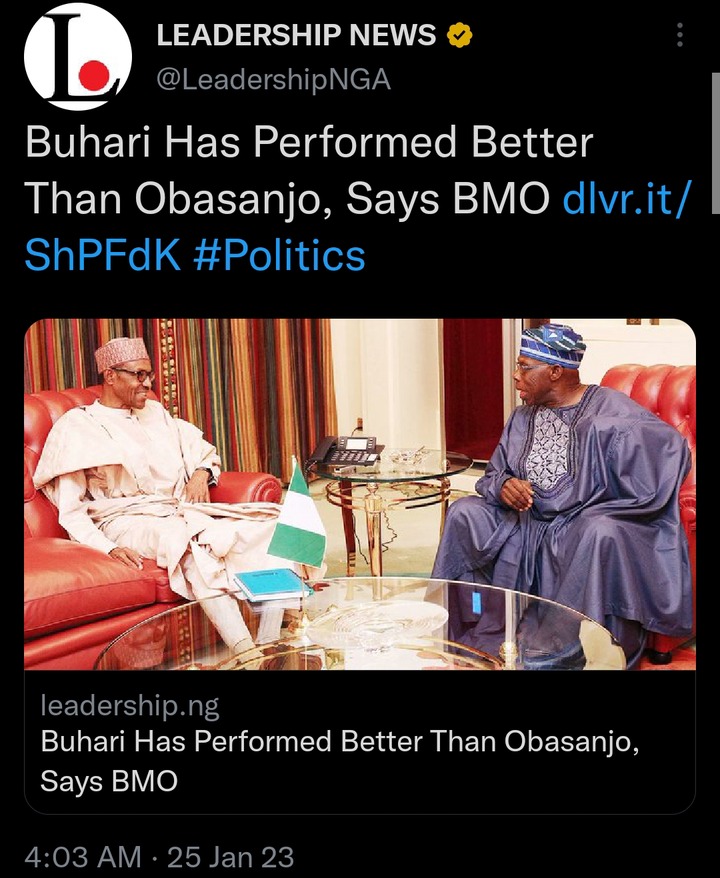 (Photo Credit: Leadership )
The Buhari Media Organisation (BMO) has advised former President Olusegun Obasanjo to admit that President Muhammadu Buhari has done what he failed to do as the country's helmsman.
BMO said the current administration had performed credibly in diversifying the nation's economy.
In a statement signed by its chairman, Niyi Akinsiju and secretary Cassidy Madueke, BMO said that the former president needs to be reminded that he did not build a resilient economy when he had the opportunity to do so.
TLucky (
)