NEWS
Today's Headlines:Atiku-Okowa Ticket Best For Nigeria–Ereyitom;Kaduna Beggars Reject Old N1,000 Note
This article Click to see Video describes something that took place only a few minutes ago. Today, See Video Clip the report was distributed to the public by our publishers.
Atiku-Okowa Ticket Best For Nigeria–Ereyitom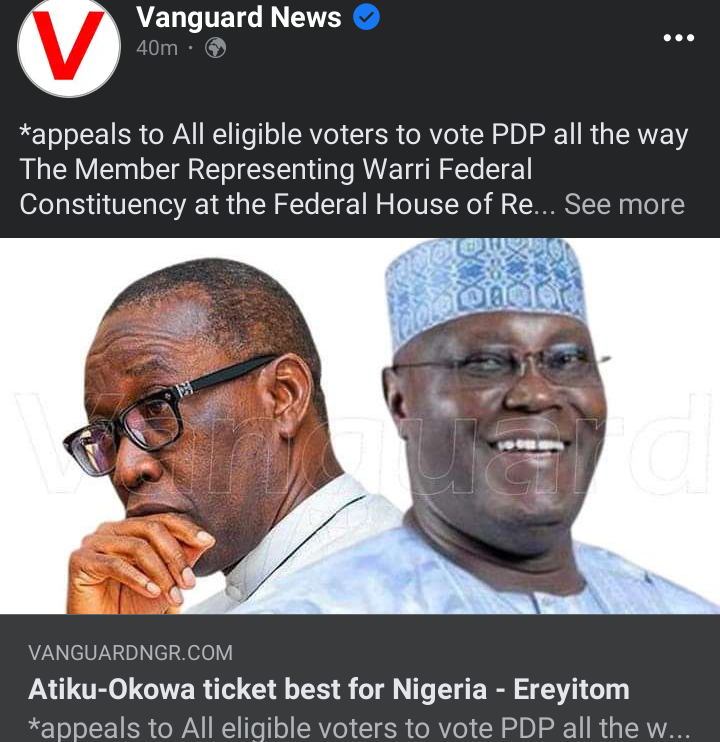 Photo Credit:Vanguard papers
The Member Representing Warri Federal Constituency at the Federal House of Representatives and Candidate of the Peoples Democratic Party, PDP for Warri Federal constituency in the forthcoming February 25, 2023, Presidential and National Assembly election, Hon. Chief Dr. Thomas Ereyitomi JP has described the PDP Presidential candidate Atiku Abubakar and his running mate Dr. Ifeanyi Okowa's ticket as the best for Nigeria.
Ereyitomi made the declaration in Asaba during the campaign rally of the PDP, he reiterated the PDP's resolve to rescue Nigeria from the ruling party at the centre and reset the country into a more prosperous nation.
The Warri Federal Rep Member noted that with the massive transformation and development agenda of Governor Okowa as well as the 2023 Vice presidential candidate, Delta is fully for PDP, Ereyitomi appealed to all eligible voters in Warri federal constituency, Delta State, and Nigeria at large to make sure they vote for PDP candidates from presidential candidate to governorship, Senatorial, House of Reps, House of Assembly and other elective future positions.
Kaduna Beggars Reject Old N1,000 Note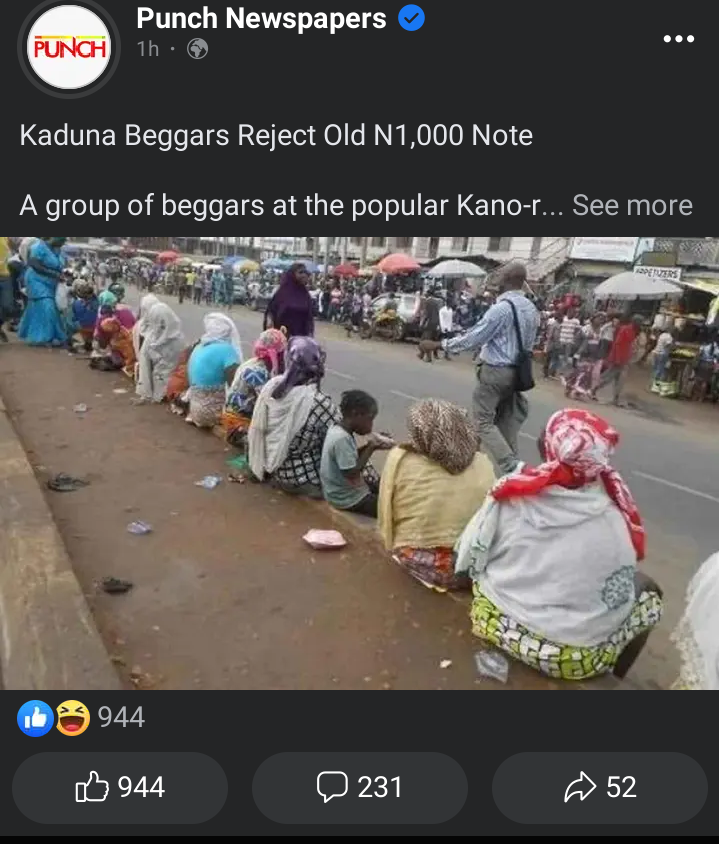 Photo Credit:Punch papers
A group of beggars at the popular Kano-road, Kaduna State, rejected an old 1,000 naira note given to them by a young man.
According to the Daily Post on Wednesday, the young man who identified himself as Caleb was approached by three beggars on wheelchairs as he alighted from a bus and decided to give the beggars an old N1000 note from his wallet.
But to his surprise, the beggars turned around, and moved away from the young man, rejecting his offer.
The man said, " They (beggars)came to me, asking for alms. I gave them what I had on me but they rejected it."
The man explained that despite his efforts, he only had old currency notes and had not been able to get new ones.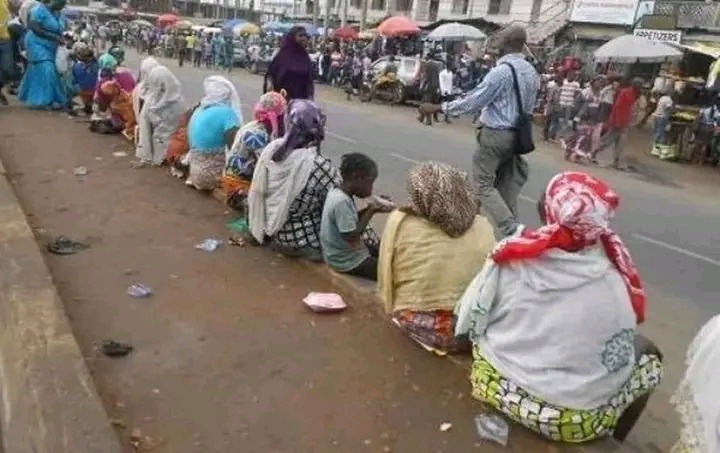 Photo Credit:Google
Attacking Buhari Won't Save You, Atiku Tells Tinubu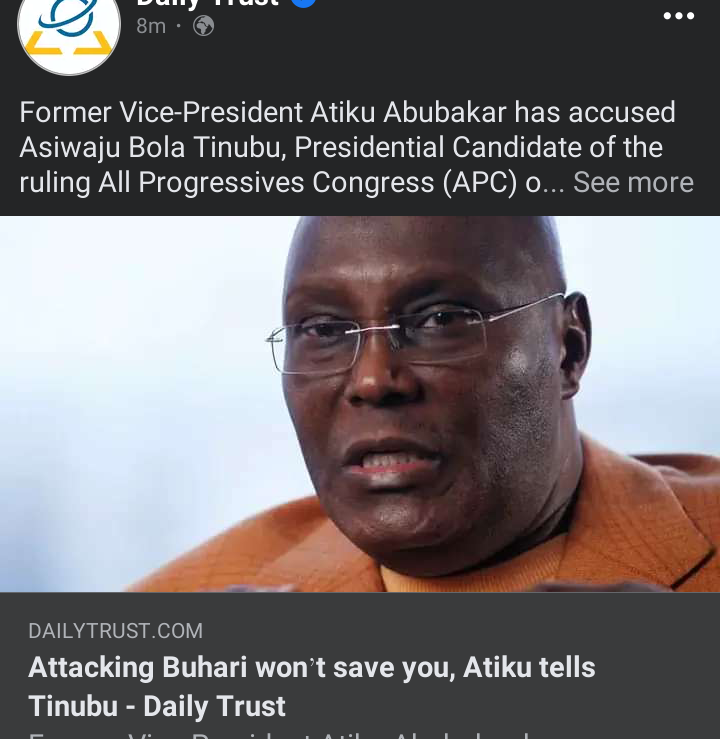 Photo Credit:Punch papers
Former Vice-President Atiku Abubakar has accused Asiwaju Bola Tinubu, Presidential Candidate of the ruling All Progressives Congress (APC) of attacking President Muhammadu Buhari.
Atiku said this in reaction to Tinubu's controversial remark in Abeokuta, Ogun State capital, on Wednesday.
Tinubu, who campaigned in the state, had alleged that fuel crisis, naira redesign were ploy to sabotage the 2023 elections.
"They don't want this election to hold. They want to sabotage it (elections). Will you allow them?", Tinubu asked the teeming supporters at the rally, to which they responded "No.
Even if they said there is no fuel, we will trek to vote. They have a lot of mischief; they could say there is no fuel. They have been scheming to create fuel crisis, but forget about it.
"Let them increase the price of fuel, only them know where they have hoarded fuel, they hoarded money, they hoarded naira; we will go and vote and we will win. Even if they changed the ink on Naira notes. Whatever their plans, it will come to nought. We are going to win. Those in the PDP will lose (won ma lule).
Restructuring Key To Nigeria's Progress – Atiku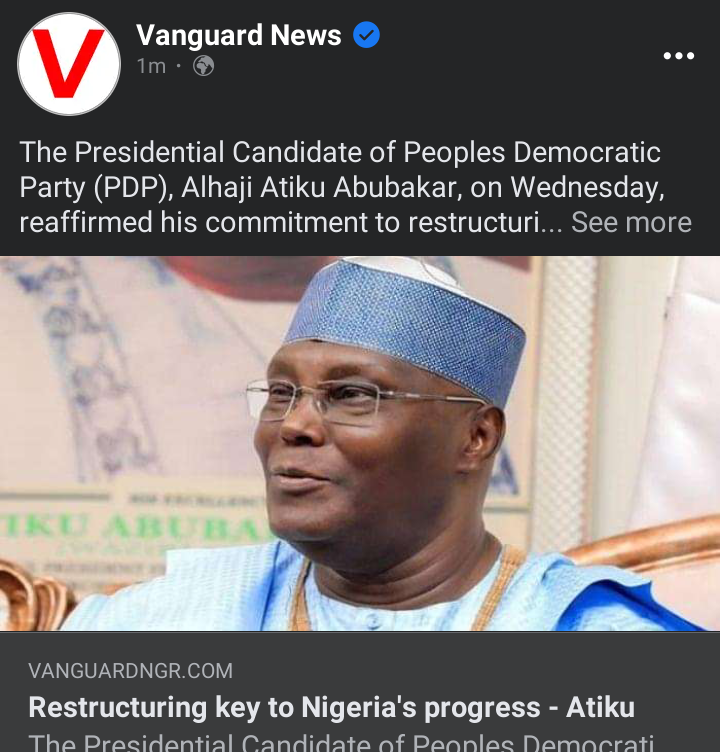 Photo Credit:Vanguard papers
The Presidential Candidate of Peoples Democratic Party (PDP), Alhaji Atiku Abubakar, on Wednesday, reaffirmed his commitment to restructuring and devolution of powers to states and local governments in the country.
He predicated his position to the inadequacy of presidential system of government currently being operated in the country, which concentrated so much powers at the centre, to the detriment of the federating units.
Atiku stated this in Asaba at the inauguration of some projects executed by Governor Ifeanyi Okowa's administration in Delta State.
Kwaha (
)