NEWS
Today's Headlines: Wike Gives Hint On Preferred Presidential Candidate, New Nigeria Is Possible- Obi
A Video clip is available for this news. Feel free to watch it here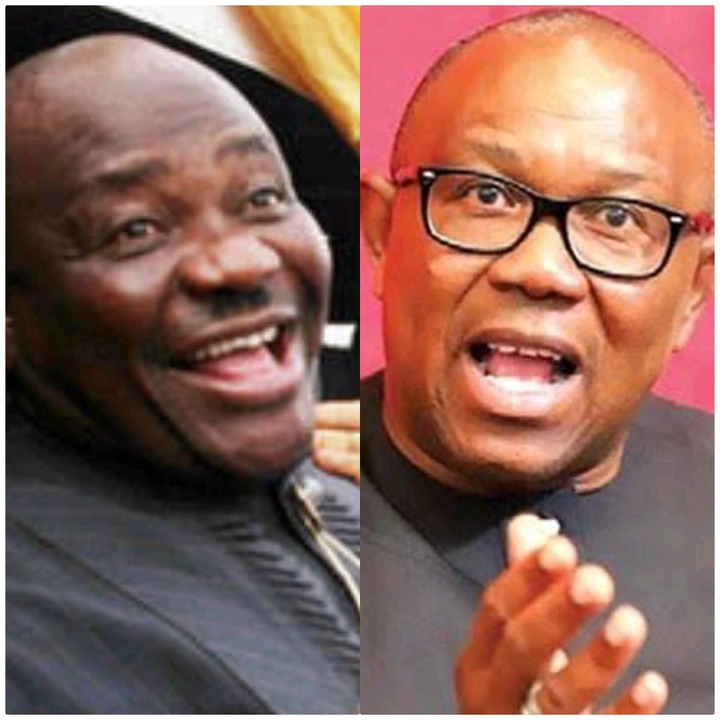 Photo Credit: Google
Wike Gives Hint On Preferred Presidential Candidate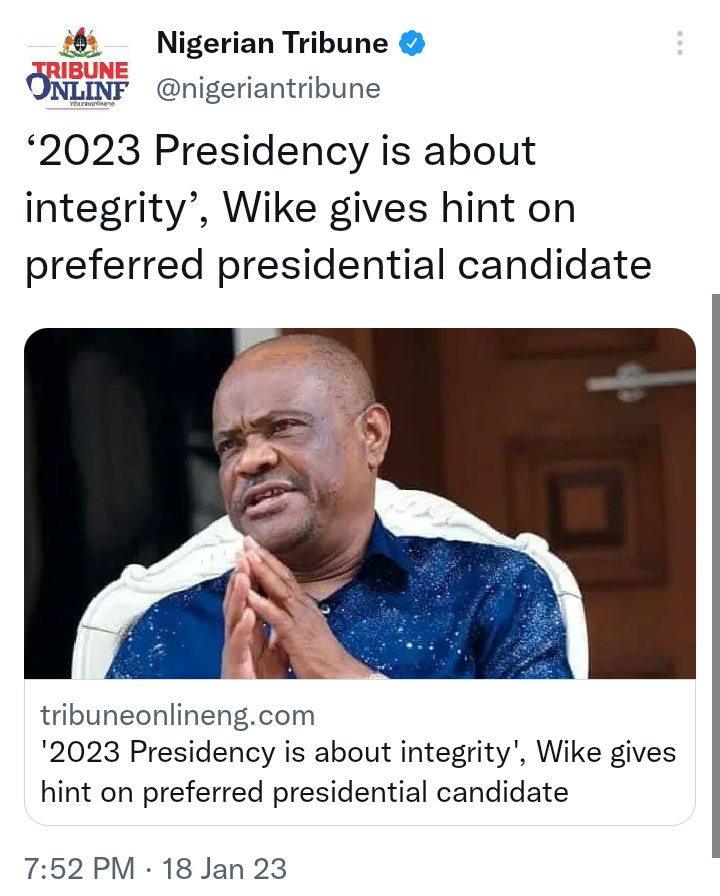 Photo Credit: Nigerian Tribune
Embattled Governor of Rivers and member of the Integrity Group (G5 Governors), Nyesom Wike has said he would soon reveal his preferred presidential candidate ahead of the February 25 poll.
According to him, his political allies will support someone adjudged to have integrity and will not renege on any agreement brokered.
New Nigeria Is Possible – Obi
Photo Credit: Nigerian Tribune
The presidential candidate of the Labour Party, (LP), Peter Obi, has said that a new Nigeria is possible.
Thus, he promised to bring back a Nigeria where every citizen will be proud to belong if he is elected president.
Obi lamented that the present situation Nigeria found regrettable, saying, today Nigerians are ashamed to call themselves Nigerians because of the numerous challenges facing the country.
PDP's Attack On Tinubu, An Admission Of Criminal Guilt – APC PCC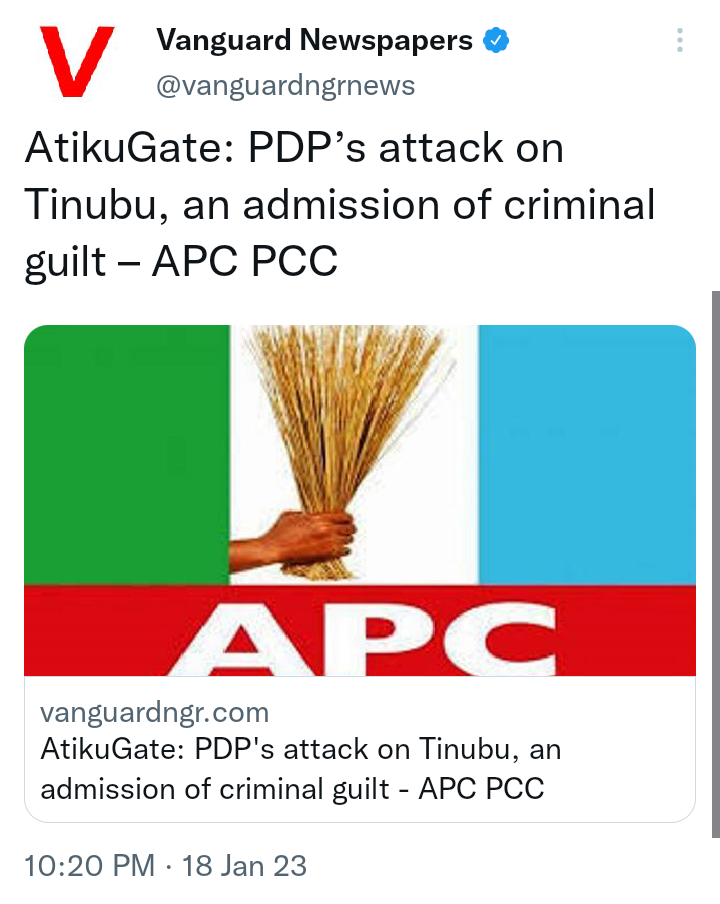 Photo Credit: Vanguard papers
The Presidential Campaign Council PCC of the ruling All Progressives Congress APC has asked the Peoples Democratic Party PDP to come clean on allegations of money laundering and sundry charges regarding a Special Purpose Vehicle SPV account operated by its presidential candidate, Alhaji Atiku Abubakar when he was vice president between 1999 and 2007.
It described PDP's attack on the APC standard bearer, Asiwaju Bola Tinubu as a shameless skirting of issues.
APC Professional Council Hails Tinubu's Foundation For Empowering 5000 Students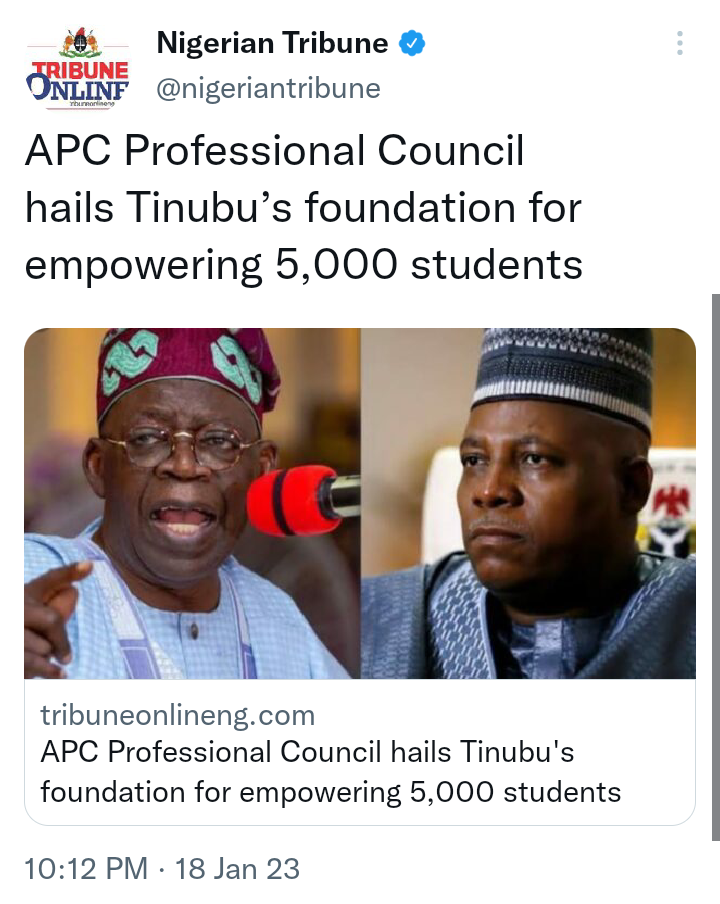 Photo Credit: Nigerian Tribune
All Progressives Congress (APC) Professionals Council, a group within the ruling party, has hailed the New Era Foundation, a Non-Governmental Organization (NGO) founded by Senator Oluremi Tinubu, for empowering the youth, women and senior citizens in the country, as the NGO benefitted 5,000 students with its recent tuition-free and scholarship scheme.
The National Director-General of APC Professionals Council, Hon. Seyi Bamigbade, gave this commendation while speaking at the flag off of the 4th Edition of the New Era Foundation's Tuition Free and Scholarship Scheme for the targeted beneficiaries in Nigeria, noting that the body founded by Sen. Tinubu, wife of the ruling party's presidential candidate, Asiwaju Bola Ahmed Tinubu, had continued to impact lives.
Adeleke Launches, Designs Programmes To Mark 100 Days In Office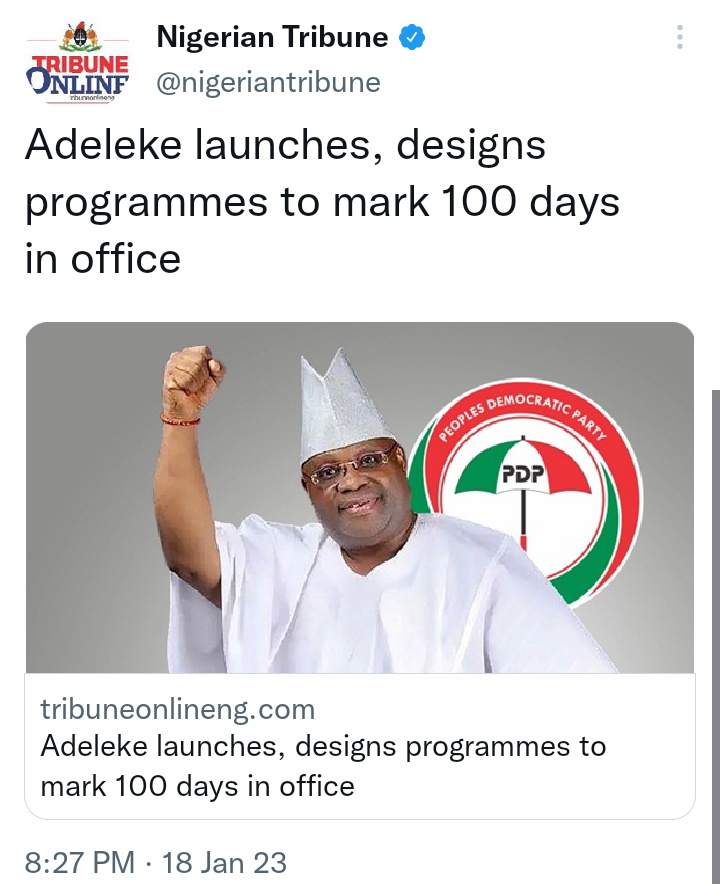 Photo Credit: Nigerian Tribune
The Osun State Governor, Senator Ademola Adeleke on Wednesday launched a designed Programme to touch the lives of residents in the state to mark his administration's 100 days in office.
Senator Adeleke who made this known in a statement in Osogbo, however, charged community volunteers working on the Google Mapping Project to accelerate the updating of their areas on Google Maps to boost local business and connectivity in the state.
Eliasco51 (
)