NEWS
Today's Headlines: Buhari To Visit Kano Jan 30, Unveil Projects, Census: NPC Trains 786,741 Workers
This article Click to see Video describes something that took place only a few minutes ago. Today, See Video Clip the report was distributed to the public by our publishers.
Buhari To Visit Kano Jan 30, Unveil Projects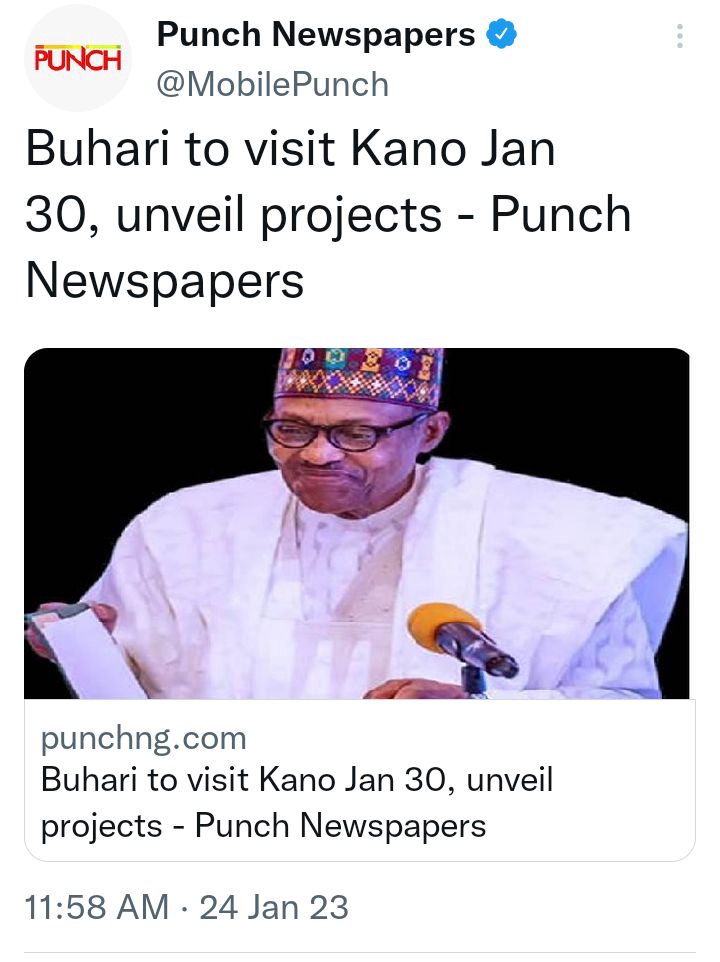 Photo Credit: Punch papers
The President, Major General Muhammadu Buhari (retd), is to unveil the Kano State Independent Power Project during his two-day visit to the state on January 30 and 31, 2023.
 state Commissioner for Information and spokesman for the Kano State governorship committee, Mohammad Garba, made the disclosure while briefing newsmen on the efforts of the committee towards ensuring victory for the All Progressives Congress in the 2023 elections.
Also, Garba disclosed that during Buhari's two-day visit, he would inaugurate projects ranging from a data centre to the Dangote Skills Acquisition Centre, Dala Inland Port, Teacher Reserved Housing Area in Ungogo Local Government areas, 10 Megawatts Independent Power Project, Tiga Dam, and Muhammadu Bridge.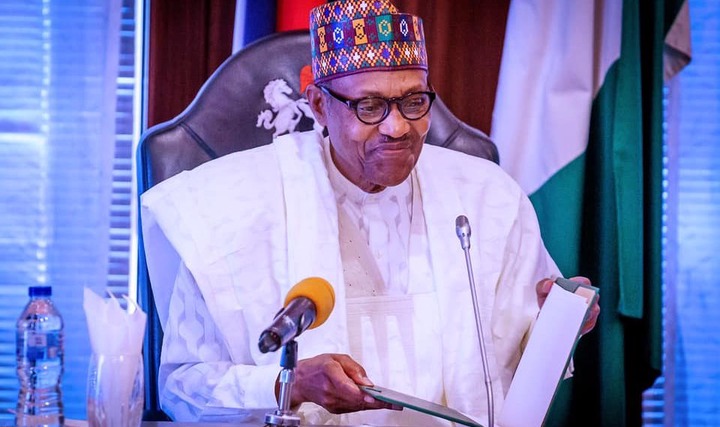 Photo Credit: Google
Census: NPC Trains 786,741 Workers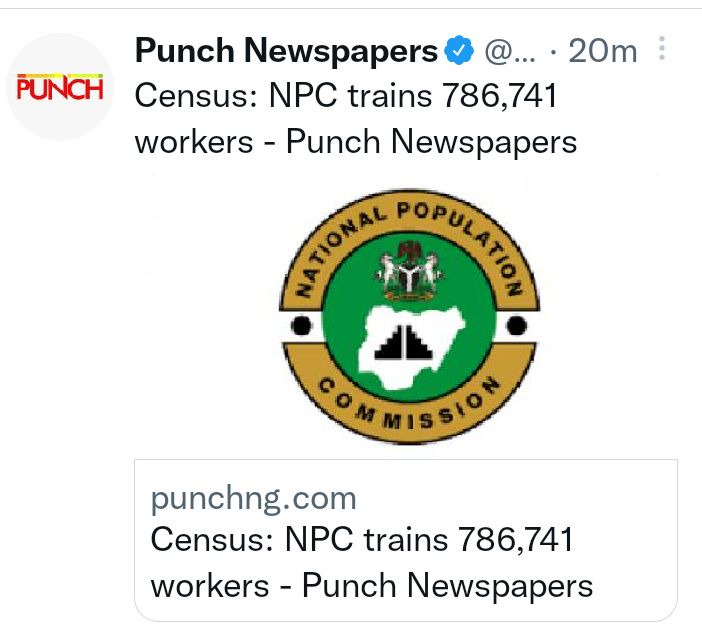 Photo Credit: Punch papers
The National Population Commission has said 786,741 workers will be trained for the 2023 census.
In a statement on Monday, the NPC's Director of Public Affairs, Isiaka Yahaya, said that this set of functionaries would consist of 623,797 enumerators, 125,944 supervisors, 24,001 data quality assistants, 12,000 field coordinators, 1,000 data quality managers, 1639 centre administrators, and 59,000 LGA level facilitators.
The statement read, "In preparation for the conduct of the 2023 Population and Housing Census scheduled to begin from 29th March to 2nd April 2023, the National Population Commission has commenced the training of functionaries for the exercise in all states of the federation and the Federal Capital Territory from Monday, January 23, 2023."
Ahmed Musa Marks Mum's Fourth Death Anniversary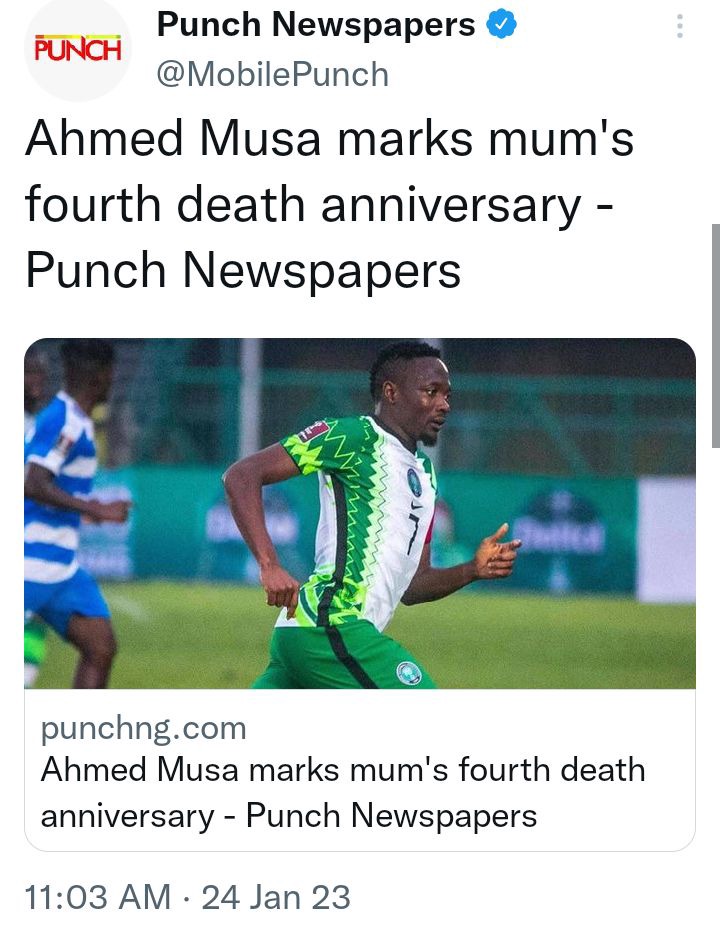 Photo Credit: Punch papers
Super Eagles captain, Ahmed Musa, on Tuesday marked his mother's fourth death anniversary.
On his Instagram page, the footballer shared photos of his mother and pictures from her burial ceremony.
In the caption, he stated how much he missed his mother, adding that he thought about her daily following her demise.
Musa noted that he was confident that the deceased was in a better place "looking down on us all".
Buhari Departs For Dakar To Attend Agriculture Conference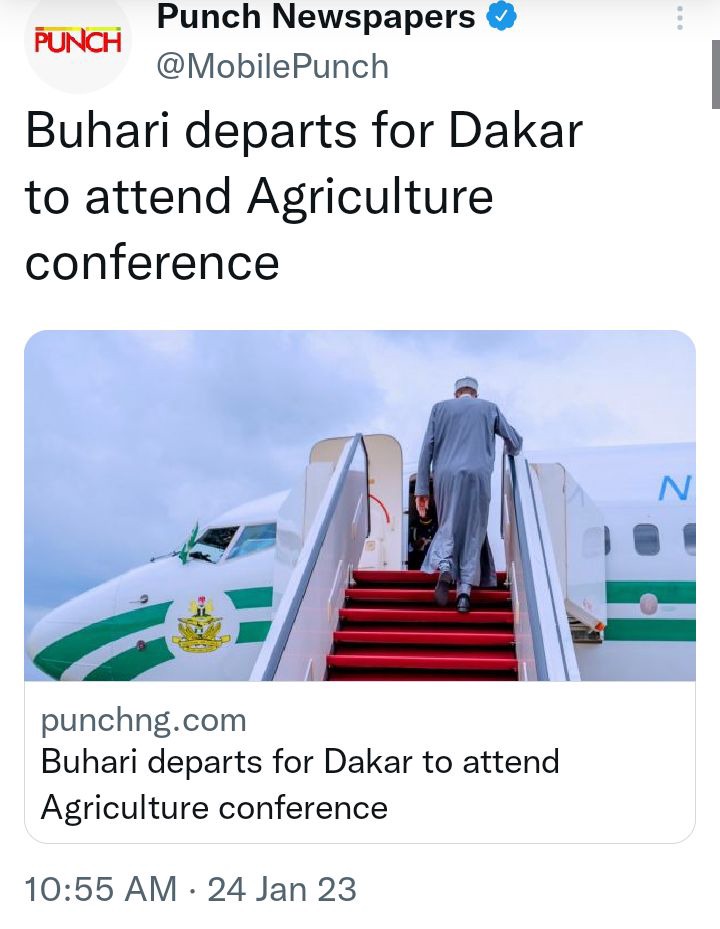 Photo Credit: Punch papers
The President, Major General Muhammadu Buhari (retd.), will depart Lagos on Tuesday for Dakar, Senegal, to attend the second edition of the Dakar International Conference on Agriculture.
This is the President's second visit to the West African country in six months. It will also be his second foreign trip in 2023.
In July 2022, Buhari joined other African leaders in Senegal for the International Development Association for Africa Summit, which led to an outcome document, the Dakar Declaration.
Armed Robber Kills Gang Member While Trying To Rob Victim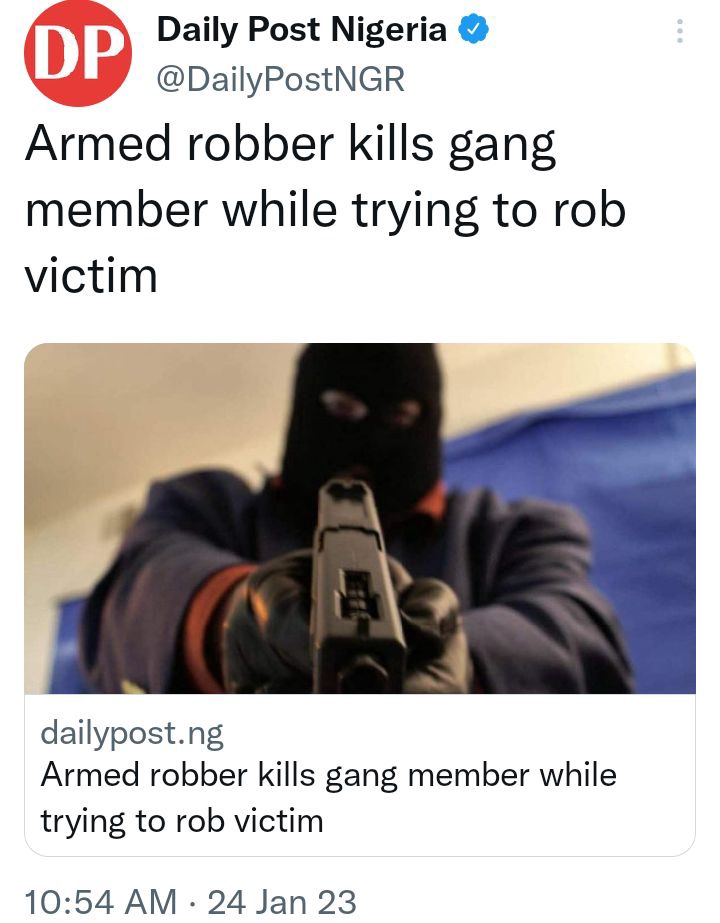 Photo Credit: Daily Post
A member of a four-man robbery gang operating in Okpoko, a suburban town in Onitsha, Anambra State, has allegedly killed one of their members.
It was gathered that the gang, which operated in a tricycle, were trying to rob a victim when one of the gang members mistakenly fired a shot, lodging a bullet in the chest of their gang member.
Anambra State Police Command's spokesperson, DSP Toochukwu Ikenga, in a confirmation press release while quoting eyewitnesses in the area, said the gang abandoned their member with the bullet wound and fled.
Makinde, Akeredolu Bag Odu'a Investment Awards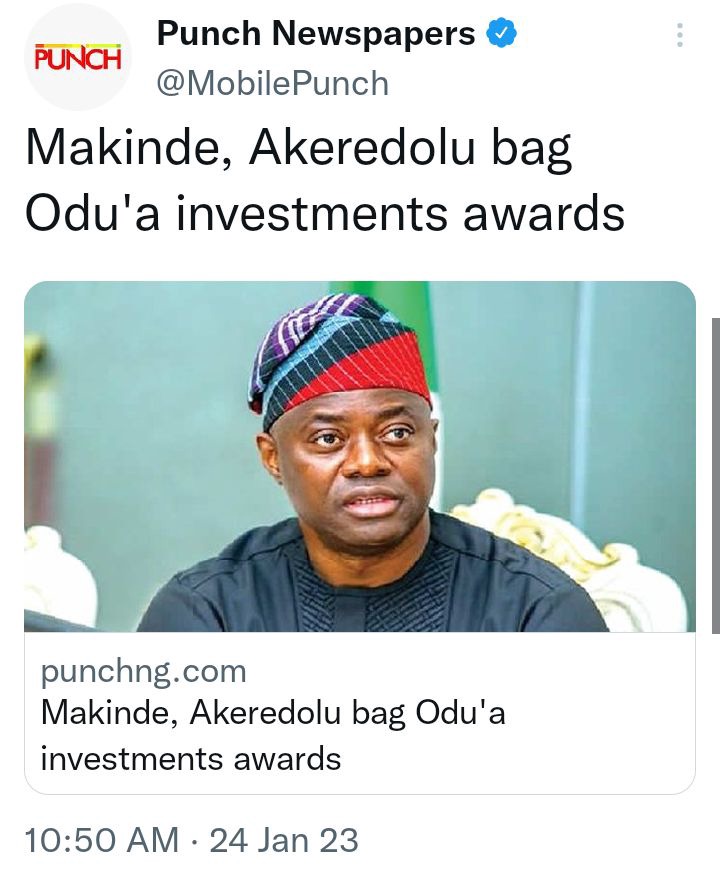 Photo Credit: Punch papers
The Oyo State Governor, Seyi Makinde, alongside his Ondo State counterpart, Rotimi Akeredolu, and the Group Managing Director of Odu'a Investments Company Limited, Adewale Raji, are among individuals to be honoured with awards in Ibadan on January 29, for their contributions towards making Nigeria work and thrive.
Others include Lagos State Governor, Babajide Sanwo-Olu and Delta State Governor, Ifeanyi Okowa; Chairman of the National Drug Law Enforcement Agency, Buba Marwa; former Oyo State House of Assembly Speaker, Monsurat Sunmonu; Chief Medical Director, University College Hospital, Ibadan, Jesse Otegbayo and ace musician and Chairman, Fresh FM, Yinka Ayefele.
Debiclaz (
)