NEWS
Today's Headlines: Bakare Blasts APC Over Election Comment, Akeredolu Meets APC Candidates
NOTE: Click to see Recorded Video Clip
NOTE: Click here to watch what happened
Bakare Blasts APC Over Election Comment
Pastor Tunde Bakare of the Citadel Global Community Church has replied angry members of the ruling All Progressives Congress, APC, who chided him over his state of the nation address on Sunday.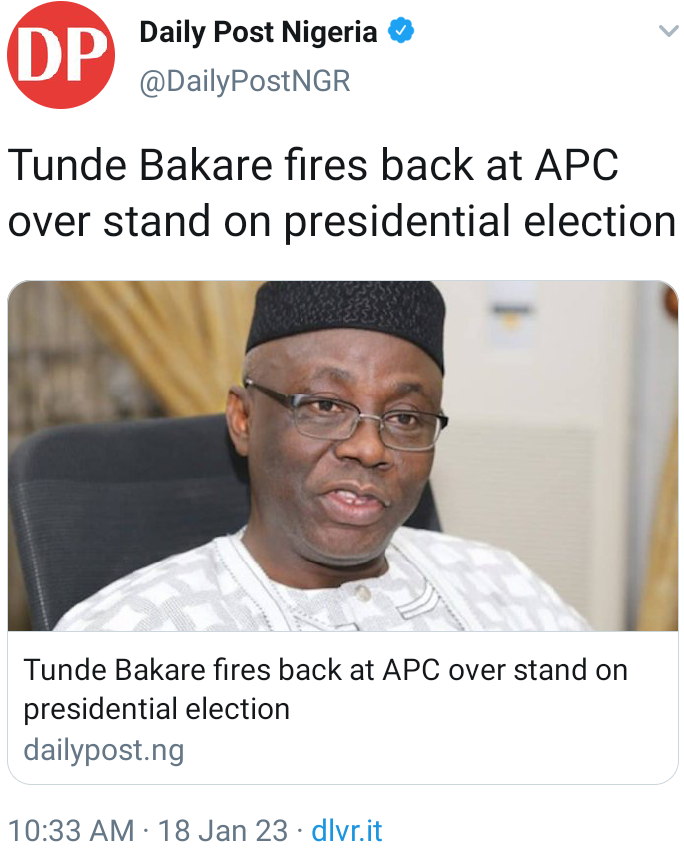 Source: Daily Post
Recall that the former presidential aspirant had during the address, called on eligible Nigerians to vote out politicians who see the presidency as their entitlement.
Apparently referring to the presidential candidate of the APC, Bola Tinubu who had early declared that the presidency is his turn, Bakare said it is the turn of Nigerians who have been frustrated by previous governments.
Vexed by Bakare's statement, Tinubu's media handlers scolded the preacher, referring to him as "paper weight" who had zero vote during the party's presidential primary election.
Akeredolu Meets APC Candidates Amid Health Scare
The Ondo State Governor, Mr Rotimi Akeredolu, has appeared in public after a health scare as he held a meeting with some candidates of the All Progressives Congress ahead of the forthcoming general elections in February.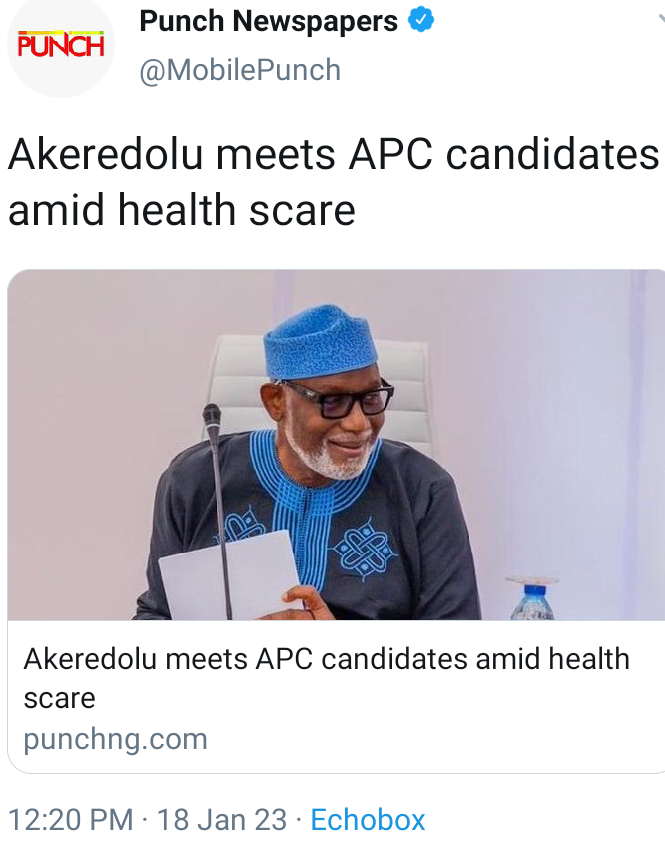 Source: Punch paper
In a statement issued by the Chief Press Secretary to the governor, Mr Richard Olatunde, the governor met with the candidates at the Government House, Alagbaka, Akure, the state capital, on Tuesday.
Before the meeting, the CPS to the governor had earlier in a statement, said there was no cause for alarm on the health status of his principal, saying he (Akeredolu) was "recuperating speedily".
Stop distracting Nigerians over same faith ticket, group tackles Atiku, Obi
National Chairman Coordinator for Team Prosper, Mr Shehu Bankole-Hameed, on Wednesday, tackled the Presidential candidates if the People's Democratic Party, PDP, Alhaji Atiku Abubakar and Labour Party, LP, Mr Peter Obi over their positions on the Muslim-Muslim ticket of the All Progressives Congress, APC saying they are "regurgitating hypocritical holiness.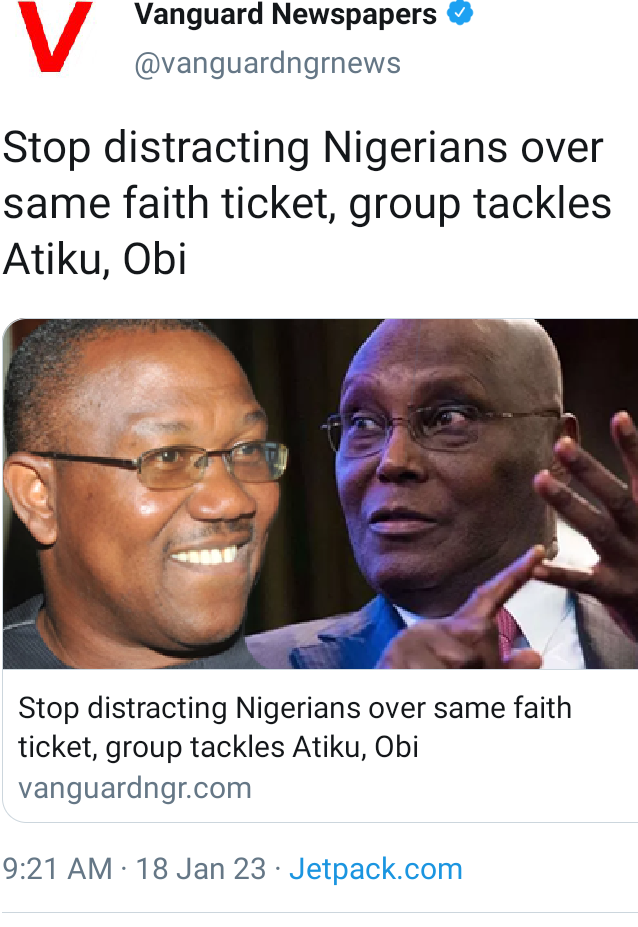 Source: Vanguard papers
Team Prosper a grass root organization for actualization of our Presidential candidate Senator Bola Tinubu.
Faulting Atiku and Obi's position on the same faith ticket, Mr Bankole-Hameed urged Nigerians not be distracted.
The statement reads: "Team Prosper will like to respond to the panic publication from opposition, with each Presidential candidate Atiku, and Obi regurgitating hypocritical holiness. We are also intrigued by some leaders of churches who know that the color of naira has nothing to do with religion.
Bauchi Flood Victims Face Disfranchisement After Losing Voter Cards
A few weeks to Nigeria's general elections, many residents of Katagum local government area of Bauchi State who voted in previous elections are still uncertain about exercising their voting rights this time around. 
Their possible disfranchisement is not of their making. A devastating flood that swept away homes in many parts of the country last year not only destroyed their properties but also their vital documents, including their permanent voter cards.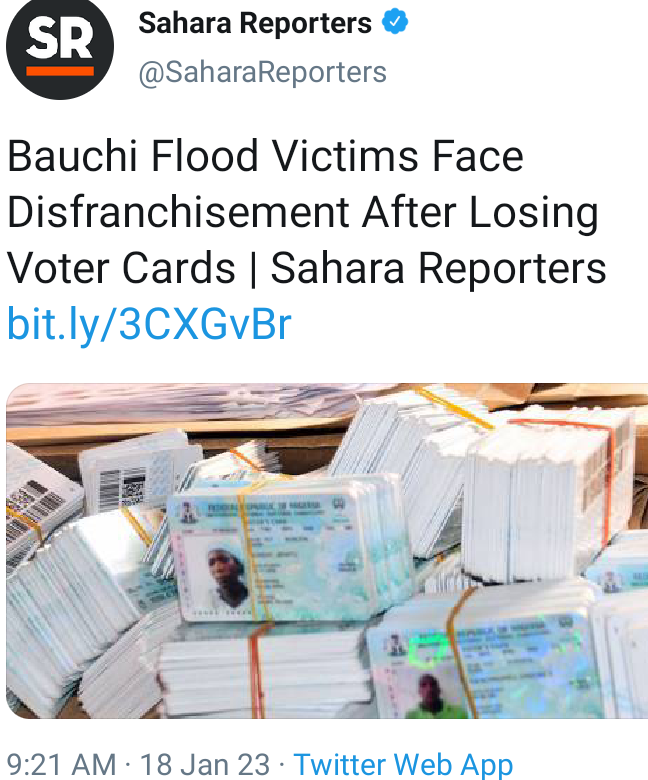 Source: Saharareporters
No eligible voter can vote without PVC, according to the Independent National Electoral Commission. Hence, those who had registered but have either lost their voter card or never collected it from INEC cannot vote during the 2023 general elections.
While the people of Katagum struggle to recover from the devasting flood, many of them are following the current political campaigns with dismay as their hope of casting their ballots is dashed.
Ebonyi Killing: Umahi Inaugurates Commission Of Enquiry
Governor David Umahi of Ebonyi, has inaugurated a nine-man Commission of Enquiry into the crises in Ekoli and Amoso Edda, Afikpo South Local Government area of the state.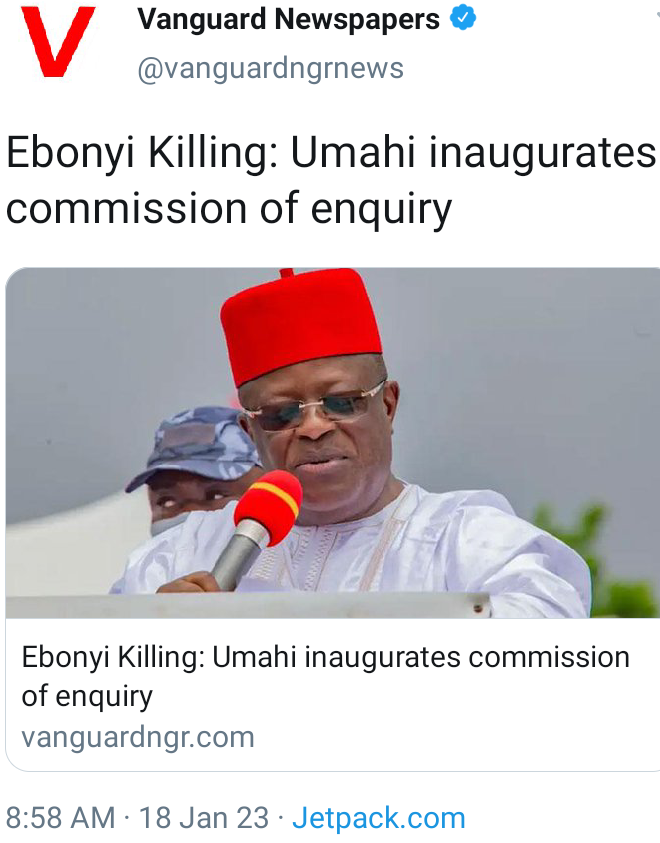 Source: Vanguard papers
This is contained in a statement on Wednesday, in Abakaliki, by Mr Chooks Oko, Special Assistant on media to Umahi.
Recall that there were killings and destruction of property in the areas, that claimed the lives of the younger brother of the Ebonyi APC Chairman, a police officer among others on Dec. 26, 2022.
Members of the commission included Mr Nkama Nkama as Secretary, while Mike Okoro, Etta Uka, Kalu Mba, John Igwe, Prof. Ibiam Ekpe, Ufere Okoroafor and Ama Kalu-Ikwor would serve as members.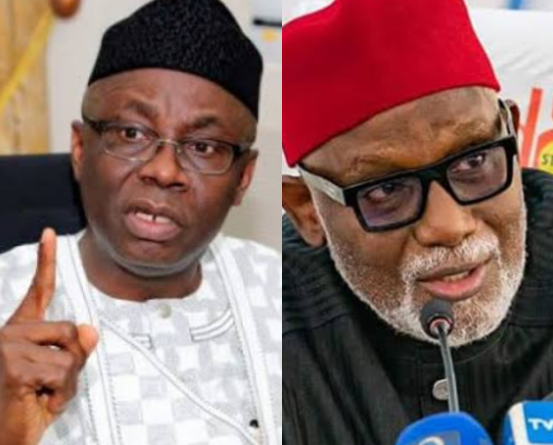 Photos Credit: Google
WaterGo (
)