NEWS
They Want To Turn Us Into Slaves, But We Are Saying No, That It Is The Yoruba People's Turn -Tinubu.
This article Click to see Video describes something that took place only a few minutes ago. Today, See Video Clip the report was distributed to the public by our publishers.
As the general 2023 Presidential election set to kick-off in the next few days in Nigeria and the commencement of the Presidential campaign, the former governor of Lagos State and Presidential candidate of the ruling All Progressive Congress, APC, Bola Ahmed Adekunle Tinubu while addressing his supporters during the APC Presidential campaign rally held in Ekiti State has continued to insist that some people in the Aso Rock are trying to ruin his chances of emerging victorious in the 2023 Presidential election.
Speaking during the APC campaign rally in Ekiti State, the former Senator who represented the good people of Lagos West during the Third Republic, Bola Tinubu noted that some political forces are against the growth of the Yoruba people in the political arena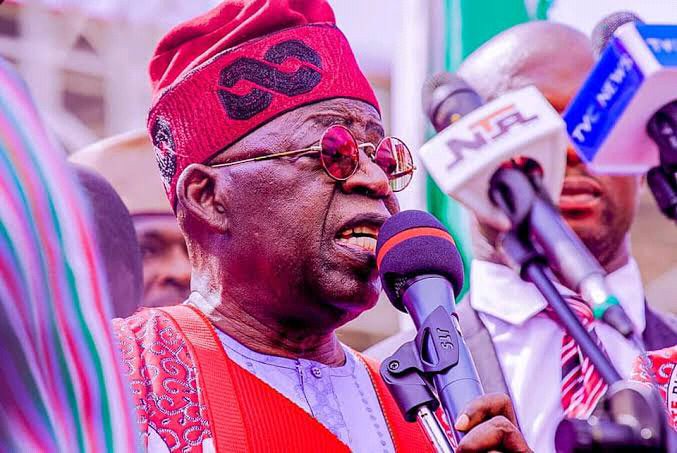 It might interest you to know that some days ago, while speaking during an exclusive interview with the TVC , the current Executive Governor of Kaduna State, his Excellency Governor Nasir El-Rufai alleged that some elements in the Villa are working against APC ahead of the 2023 Presidential election.
Based on these notes, the flag-bearer of the ruling All Progressive Congress, APC, Bola Tinubu alleged that this set of people have depreciated the Yoruba rave to be slaves to them, adding that their duty is to stand against this form of disrespect.
Speaking further, Bola Tinubu made it known that it is the Yoruba people's turn to get take over power, urging the people of Ekiti State to fight before the day of election.
According to Bola Tinubu, he said, "Many of our children after finishing school have not gotten jobs. Most especially in Ekiti State, they are known to be bookworms. They are very brilliant in the educational aspect. They want to turn us into slaves, but we are saying no, that it's the Yoruba turn. What I'm seeing in front is revolution".
You can watch the video below….
https://www.youtube.com/live/hFwOmGctBqE?feature=share
Sunday123 (
)