NEWS
The Abia PDP campaign council For Guber Candidate Laments The Loss Of Ikonne
This article Click to see Video describes something that took place only a few minutes ago. Today, See Video Clip the report was distributed to the public by our publishers.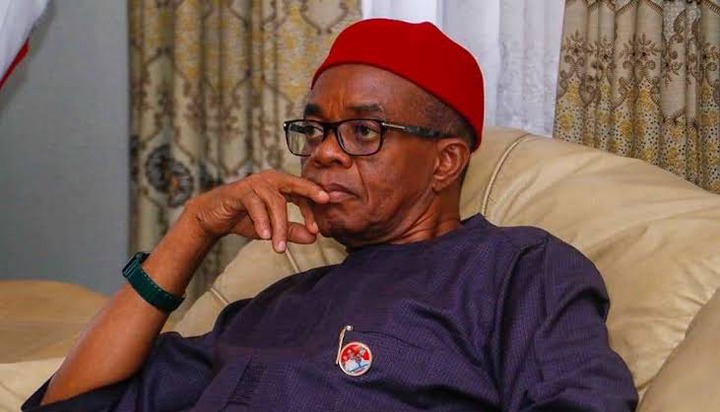 Rt. Hon. Chinedum Elechi, the former deputy speaker of the Abia House of Assembly and director general of the campaign organization (Uche ndi Abia) for the late PDP governorship candidate in the state of Abia, Professor Eleazar Uchenna Ikonne, has expressed sorrow over Ikonne's shocking death on Wednesday.
He made these remarks in a brief statement that was published on Wednesday in Umuahia, the state capital of Abia.
Before being the Peoples Democratic Party's candidate for governor in the state, the late Prof. Uche Ikonne served as vice chancellor of the Abia State University in Uturu (ABSU).
According to information obtained by DAILY POST, Prof. Uchenna Ikonne, a Peoples Democratic Party (PDP) candidate for the March 11 governor's election in Abia State, passed away on Wednesday at the National Hospital in Abuja.
He had already received care in a hospital in the United Kingdom.
His son Chikezie, speaking on behalf of the family, announced Ikonne's passing in a statement.
In the announcement, it was written, "I grieve to inform the passing of my loving father, Prof. Eleazar Uchenna Ikonne, who passed away at the National Hospital Abuja today, January 25, 2023, about 4am, following a brief illness.
"He was healing after receiving the appropriate care in the United Kingdom, but a few days ago, he relapsed, resulting in many cardiac arrests from which he did not recover.
But on Wednesday, in response to the most recent development in the release, Mr. Elechi, who also serves as the current Director General of the PDP central campaign council, offered his condolences to the late Uchenna Ikonne's family and prayed to God the Almighty to grant the late man's soul eternal rest.
The Uche Ndi Abia Campaign Organization announced in a statement that Prof. Eleazar Uchenna Ikonne, the Peoples Democratic Party's (PDP) governorship candidate for the general elections in 2023, had passed away "The Uche Ndi Abia Campaign Organization announces with a heavy heart but complete submission to God's will.
"We extend our condolences to the late principal's family."
"I want God to grant him eternal rest and that his memories bring joy to his family."

GosunJ (
)