NEWS
Struggle over mineral resources caused terror in North – Kwankwaso
NOTE: Click to see Recorded Video Clip
NOTE: Click here to watch what happened
The presidential candidate of the New Nigeria Peoples Party, Rabiu Kwankwaso, has revealed that the terror rocking the North West and North East is caused by struggle over mineral resources.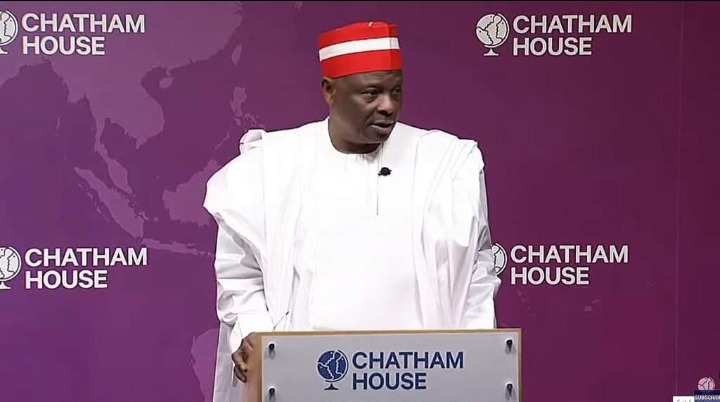 Speaking on Wednesday at Chatham House in London, the NNPP candidate disclosed the information.
Former Kano State governor and former defense minister Kwankwaso claimed that individuals in and outside of Nigeria are "grabbing" the country's mineral wealth, which is the reason for the fighting in the local areas.
He declared, "In Nigeria, we need both a rewards and punishments system because everything is now working."
"When I was governor of Kano, no one would go out and collect a single naira in taxes. We didn't take out a single loan throughout the eight years I was in power, and all of my expenditures in Kano came from state funds, which is why some people will wonder where we got our money from.
Don't forget, he said, that as we sit here, Nigeria is only producing between 1 million and 1.2 million barrels of oil, with the remaining 1 million being stolen by some individuals. We (Nigeria) were supposed to be producing 2.2 million barrels of oil. Where are the individuals? Who are they, exactly? We must stop them because of this.
"People are stealing mineral resources, including gold and other resources, from Nigeria and outside of Nigeria, which is the main cause of the violence in the North West and even the North East.
"That needs to end. The government must seize control of all these assets and use them for the benefit of everyone.
He continued by saying that the nation's present circumstances are the result of bad decisions made by the country's leaders for more than two decades.
We may blame a variety of things, he said, from the coronavirus to the global economic downturn, from Western powers to global money, etc., for our predicament.
However, in my opinion, the blunders and bad decisions made by the individuals charged with overseeing Nigeria's government over the past 24 years are the reason we are in the situation we are in today.
Afeezoladiti (
)