Quebex – Awulu (Your Heart) ft Fame [Prod. By Eclipse]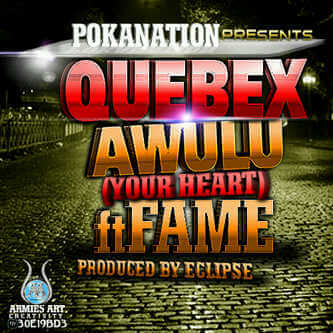 PokaNation Presents 'Awulu' by 'Quebex' featuring 'Fame'. After releasing a couple of songs in 2010, this young man dived into the world of "Entertainment Blogging" which some people only know him for and somehow gave music a pause… According to him, he has been practicing, upgrading and recording all these while.
Quebex is back and drops yet another mind blowing tune which he titles  Awulu', a harmonious merger between simple, energetic and tasteful romantic lyrics, a quick-tempo, feel good beat, and the awesome production skills of one of the fastest growing artiste & producer  in the game 'Eclipse'. Ladies and Gents, brace yourself… It's clear we've got another banger on our hands!
DOWNLOAD, LISTEN, ENJOY & SHARE YOUR THOUGHT!
Click to see the Video on Twitter,,,Watch video on Twittter