NEWS
Offa Robbery: ACP Kyari offered me N10m to implicate Saraki – Suspect
A Video clip is available for this news. Feel free to watch it here
Ayoade Akinnibosun, one of the main suspects in the Offa bank robbery case, testified before the Kwara State High Court in Ilorin on Wednesday about how the former Commander of the Inspector General Response Team squad, ACP Abba Kyari, "tortured him and offered to pay him N10 million and other benefits in exchange for his testimony against former Senate President Dr. Bukola Saraki in the armed robbery case."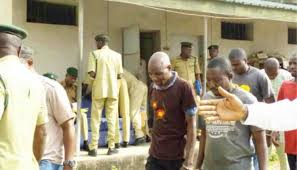 Additionally, he claimed that, "Kyari had offered to provide him a visa to any nation of his choice if he agreed to back the effort to indict Saraki, but he claimed to have declined the offers."
The police brought five suspects, Ayoade Akinnibosun, Ibikunle Ogunleye, Adeola Abraham, Salaudeen Azeez, and Niyi Ogundiran, to court for a bank robbery conspiracy.
"About 15 to 20 of us were brought to Abuja; I barely recognize a few of them. Meals were delivered to us outside, but I was unable to eat them since my hands were immobilized from the torment I had endured at their hands in Ilorin. To feed me, they requested Kunle Ogunleye."
Officer Hassan Attila ordered that, "they bring some men, after separating the five of us and placing us in the generator house. To bring five Fulani men, they went. In my presence, they brought them and slaughtered them all."
"I was informed that it wasn't a movie. He shot my right leg after asking me to extend my legs. When I tried to move the second leg after he fired it, it struck my thumb," he said.
In order to continue the hearing, "the case was postponed by the presiding judge, Justice Halimat Salman, until February 13th, 2023."
AhmedSoliu111 (
)