NEWS
Obi's Supporters Have Made Up Their Minds, Even If You Try To Blackmail Their Candidate -Bwala
NOTE: Click to see Recorded Video Clip
NOTE: Click here to watch what happened
The spokesperson for the Peoples Democratic Party, PDP presidential campaign council, Daniel Bwala may have sent a subtle message to the oppositions after the recent allegations made towards his principal, Atiku Abubakar.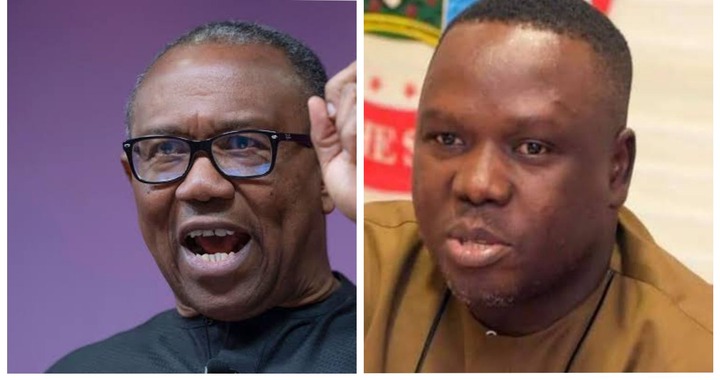 Daniel Bwala who was emphasizing how Nigerians have all made up their minds to whoever they intend to support stressed that the labour party supporters have also proven such to be the case, as no matter what one may do in trying to blackmail Peter Obi, it will not stop those set of people from still voting him in the polls.
The statement which the spokesperson made while speaking on Arise was coming after he was reacting to the fact that those who are fully in support of Atiku Abubakar will not back down, despite any blackmails or allegations made towards the former vice president.
Bwala who was citing an example from that of Obi's supporters was also of the opinion that many Nigerians have looked at the various parties and have now realized which will be adequate enough to lead.
Speaking further, he pointed out that Nigerians may have seen fit, the Peoples Democratic Party, PDP as the party to emerge victorious in the presidential election.
In his words… "People in Nigeria, their minds are up, it's like you're going to Obidient people, and you're trying to blackmail Peter Obi, it will not move them. The Nigerian people have looked at these political parties, APC is on the extreme, playing religious politics, Labour on the extreme, playing religious politics, but PDP is the the only party that has national strength with a common objective"
One will not be wrong to point out that the allegations made towards Atiku Abubakar of the PDP has continued to create vast attention, even as the Peoples Democratic Party has repeatedly downplayed it's importance, adding that it is a mere blackmail and a distraction.
What's your opinion about this statement? Kindly drop your thoughts in the comment section below.
Watch Video Below (Fast Forward To 2:17:50);
TaurusBaby (
)