NEWS
Before Making Your Decision On Who To Vote, Compare Lagos With Anambra State – Oshiomhole.
This article Click to see Video describes something that took place only a few minutes ago. Today, See Video Clip the report was distributed to the public by our publishers.
As the general 2023 Presidential election set to kick-off in the next few days in Nigeria and the commencement of the Presidential campaign, many Nigerians, including top politicians have been sharing their views regarding the Presidential candidates and their chances in the forthcoming Presidential election.
Based on these notes, a well known Nigerian politician, APC chieftain, and former National Chairman of the ruling All Progressive Congress, APC, Adams Oshiomhole while addressing the people during his recent campaign tour in Edo State has noted that before Nigerians decided to pick the former governor of Anambra State and Presidential candidate of the Labour Party, LP, Peter Gregory Obi as the next President of Nigeria over the former governor of Lagos State and Presidential candidate of the ruling All Progressive Congress, APC, Bola Ahmed Adekunle Tinubu, they should first look at both candidates' achievements during their time as governor.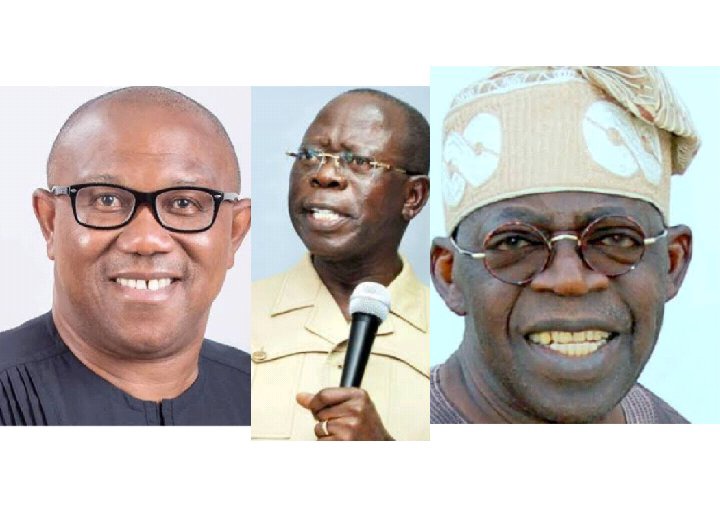 According to the former president of the Nigeria Labour Congress and former governor of Edo State, Adams Oshiomhole, he made it known that Nigerians need to first compare Anambra State where Peter Gregory Obi governed for over eight years and Lagos State where Bola Tinubu governed for eight years, before making their decision on who to vote for ahead of the 2023 Presidential election.
According to the APC chieftain, Adams Oshiomhole, he said, "Nigerian youths should go to Onitsha in Anambra State and the state's capital (Awka) and compare it with Lagos State before making decision on who to vote".
Further speaking, Adams Oshiomhole noted that what Peter Obi cannot do for Anambra State during his time as the governor of the state, he will not be able to do it for Nigeria if elected as President, adding that during Peter Obi's administration, there was no major public hospital in Anambra State, and Peter Obi was keeping the local government money in fidelity bank instead of using it to develop the state.
You can watch the video below….
https://www.facebook.com/101049622610094/videos/1243404943222601/?app=fbl
Sunday123 (
)