NEWS
APC Vice Presidential Candidate Urges Nigerians To Stop Speaking On Tinubu's Age And Health
This article Click to see Video describes something that took place only a few minutes ago. Today, See Video Clip the report was distributed to the public by our publishers.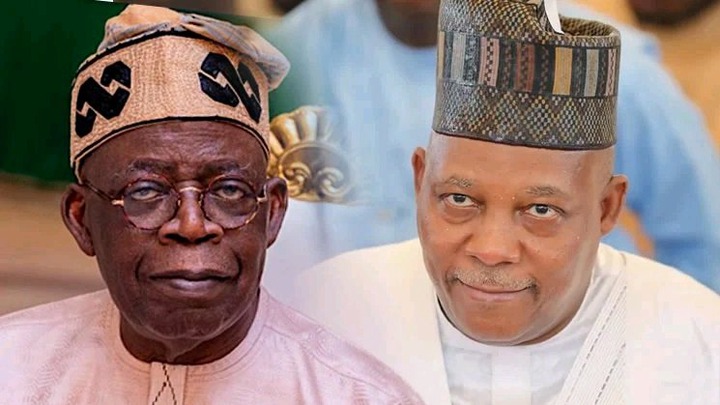 The vice-presidential candidate of the APC, Kashim Shettima wants Nigerians to stop being fixated on the age and health of his principal, Bola Tinubu.
Shettima made this known on Monday in Lagos at a banquet held in honour of President Muhammadu Buhari who was in the state for a two-day visit.
According to him, Bola Tinubu is not preparing for the Olympics but for governance that "thrives on established track records."
The people claim it is the same reason he said when elected Tinubu will become minister of economy. According to him, Tinubu will be in-charge of economy. Then, he will become the commander in chief to take care of security.
This comes up shortly after the APC presidential candidate was caught sleeping while in a meeting last week.
Shettima shouldn't tell an employer to overlook his health status in seeking for employment. It's tiring to continue to mention how health challenges can prevent one from performing their duties.
Source; Nigeria Info Radio Station.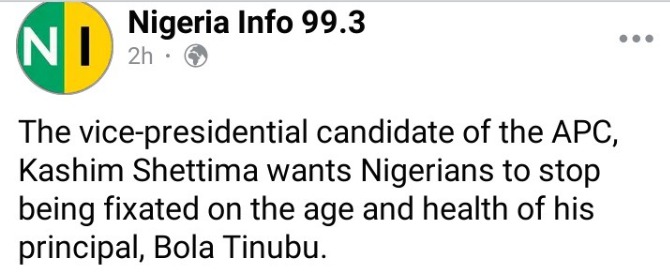 Justusben (
)